Contact
Galerie Hilaneh von Kories Belziger Straße 35
10823 Berlin
Phone: + 49 (0) 30 7871365-0
Fax: + 49 (0) 30 7871365-10

mail@galeriehilanehvonkories.de
www.galeriehilanehvonkories.de




Hilaneh von Kories is a member
of Deutsche Gesellschaft für Photographie e.V.
(German association for photography)



and of Landesverband Berliner Galerien
(Berlin association for galleries).


How to find us
How to find us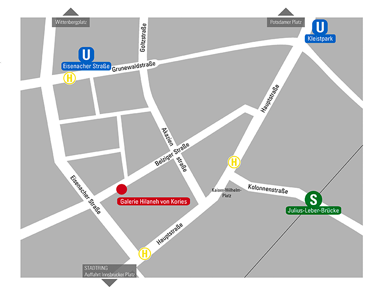 Click to enlarge
Thank you very much for your interest in our gallery. If you would like to present your work to us, please send a web link or a portfolio via email. The gallery assumes no liability for unsolicited samples of work and will not return them.
Public Transport
U-Bahn Kleistpark und Eisennacher Straße: Linie U7
S-Bahn Julius-Leber-Brücke: S1, S25

Bus stop Kaiser-Wilhelm-Platz: 104, 106, 187, 204, M48, M85, N42
Bus stop Albertstr.(Eisennacher/Hauptstr): 104, 187, M48, M85, N42