Thomas Bak:Thomas Bak Vita→ Vita
The Photographic Capriccio
Sheets from 1998 to 2008
September 5 to November 7, 2008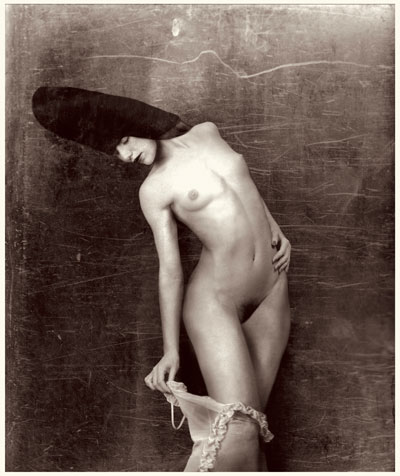 From September 5 to November 7, 2008, Gallery Hilaneh von Kories is going to show works by photographer Thomas Bak. His seemingly nostalgic images are greatly irritating. His figures, objects, landscapes and rooms confront viewers with a manneristic style and eccentric, erotic and often disturbing imagery. At first, you get the impression that you are looking at old Daguerrotypes. But you soon realize that you are drawn into a surreal cosmos constructed with a playful take on the history of visual art.
The title of the exhibit refers to an art form called Capriccio, which was developed between the 16th and 18th century as a battle for artistic freedom. Capriccio painters and graphic designers defied the academic norms of their time. They depicted their day dreams and nightmares of the abyss and went far beyond what was then considered to be realistic. Today Capricccio is regarded as one of the foundations of modern art.
Many artists utilized their newly found sense of freedom to include political messages and to touch upon socially critical subjects. Bak named one of his series »Arche=Nada« and renders a bizarre interpretation of the biblical theme of the Arche Noah, totally devoid of any comforting aspects. Bak also works as a writer, musician and illustrator. For his photographs, he sketches his scenes first, and then turns them into elaborate productions characterized by precise choreography.
Original artwork is projected onto new images, a process the artist calls »reanimation of atavistic and seemingly lost pictures«. The results are multi-layered metaphors enriched by symbols and citations from the history of art and literature: His photographs add up to fascinating puzzles. Part of the exhibit is a text Bak wrote in an artificial, ancient sounding language. It is produced as a portfolio.
Thomas Bak was born in Szczecin, Poland. He attended Bremen University for the Arts of Book and Graphic Design and Photography, and received his degree from Professor Fritz Haase. In 2004 Bak won Germany's most important awards for up-and-coming photographers, the BFF and Reinhard-Wolff-Preis. His works have been exhibited in countries around the globe.
Thomas Bak:
The Photographic Capriccio
Sheets from 1998 to 2008
September 5 to November 7, 2008
Vernissage: September 5, 2008, 19:00h | Laudatio: Prof. Fritz Haase
Opening Hours: Tuesday to Friday 14:00–19:00h and by appointment
Galerie Hilaneh von Kories
Stresemannstraße 384a (in the courtyard)
22761 Hamburg
Tel: +49 (40) 423 20 10
mail@galeriehilanehvonkories.de
www.galeriehilanehvonkories.de