From September 6th to November 2nd, 2012, Galerie Hilaneh von Kories will present a selection of 50 photographs by Walde Huth.
The Cologne-based photographer (1923-2011) is primarily known for her fashion shots from the 50's. Besides Huth's signature works, the gallery shows rarely seen treasures from the photographer's archive: still and advertising photos have been selected together with portraits of famous contemporaries, the dancer Harald Kreutzberg, the author Ernst Juenger and the artist Hanspeter Fitz, a close friend, among them.
Walde Huth was an exceptional woman as well as a creative artist and multi-faceted photographer. Full of imagination and energy, headstrong and spontaneous, poetic and insistent, her work is blessed by an infallible sense for staging, perfect light and graphic composition of the image. Austere objects, emphatic portraits and playful fashion shots know to capture the eye of the observer.
Walde Huth was born in Stuttgart in 1923. After finishing school, she wanted to embark on her dream of an acting career, but instead followed the advice of her father, an engineer and himself a talented amateur photographer: at age 17, Huth left for Weimar to study at the School for Applied Art and Craft with Walter Hege, the most important architecture photographer of his time. The young student was fast to learn that photography is much more than a craft.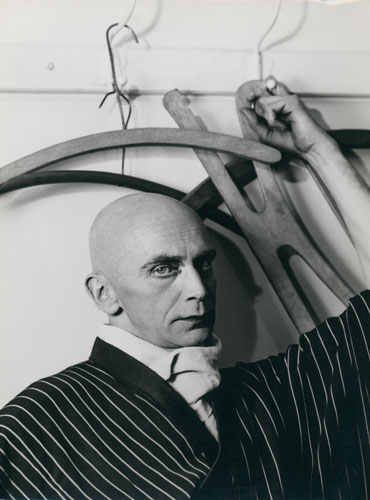 Mädchenbildnis, Esslingen, ca. 1945 - 1950
With the war in full swing and to avoid the draft to forced labor, the young photographer joined the Agfa company in Wolfen, the leading lab for color development. Reluctant at first ("color is kitsch"), she learns to appreciate the possibility color composition offers. After the war, she founds her own studio in the city of Esslingen. Her photographic focus is influenced by the modern visual language of "Neue Fotografie", which originated in the 20's and whose subjective interpretation shaped mid-century photography. Walde Huth explores all kinds of photography and offers portraits, stage shots, advertising and fashion photography. The latter allows her to travel the world, her most iconic fashion images are taken in Paris. She captures the most famous models of her time, not in a studio but on location in the city, in front of the Eiffel Tower, along the Seine river, and in contrast with architecture and street life.
Huth's art garners attention, not only in German magazines. Having already met her future husband, she turns down a contract with Vogue. Together with Karl Hugo Schmoelz, an architectural photographer, Walde Huth manages their studio, schmoelz+huth, from 1958 until her husband's death in 1986. After encountering economic problems which also force the sale of the studio building, Huth has to retreat to an apartment in the former studio's basement. In 2006, Huth sells the entire schmoelz+huth archive as well as the body of her own photographic work to the Cologne-based collector Horst Glaeser. Full of energy, Huth continued to experiment with innovative creative methods. She died during a fire in her apartment in 2011.
This exhibition was made possible in cooperation with the archive of Horst Glaeser in Cologne, representing the body of photographic work of Walde Huth and Karl Hugo Schmoelz.
The exhibit of vintage prints in Hamburg has been complemented by an exclusive Modern Print Edition of seven of Huth's fashion images.
Hanspeter Fitz, Maler & Bildhauer, 1955